Manufacturer of innovative anti-tumor and high-end veterinary APIs!
Sales Hotline: +86-713-7222018 | Email: sales@hcpharm.com Chinese
About HONCH
Hubei Honch Pharmaceutical Co.,Ltd, established in 2007, is located at Li Shizhen Pharmaeutical Industrial Park, Qichun County, Hubei Province. Honch is engaged in R&D and production of innovative anti-tumor and high-end veterinary APIs. Honch was initially identified as a Hi-Tech enterprise in 2011, and has more than 20 domestic and foreign invention patents. Besides, Honch is a post-graduate workstation granted by the Hubei Provincial Department of Education, and won the Science & Technology Innovation Awards and Science & Technology Progress Awards of Hubei Province for many times.
The characteristic of pharmaceutical industry is "certify first, market later", while the standardization of product quality system is the one of the core competitiveness of Honch. Honch has passed several on-site audits of US FDA, many products have obtained domestic NMPA GMP certificates and EU CEP certificates in recent years, and products are registered in many countries, which indicate that Honch's products can be sold in the global markets including the European and US high-end markets.
As a srofessional, specialized, innovative small-giant enterprise, the products of Honch are the species of high barrier and unit price in niche areas. Honch has been the stable supplier of multiple original research companies, and the worldwide market occupancy for the products has been steadily increased, among which Honch is the global exclusive API manufacturer of Ixabepilone, which is used for the treatment of advanced breast cancer.
The Honch's dream is to live a happy life because of work. Honch will everlastingly persist and deeply tap its own advantages to be a characteristic and irreplaceable pharmaceutical enterprise.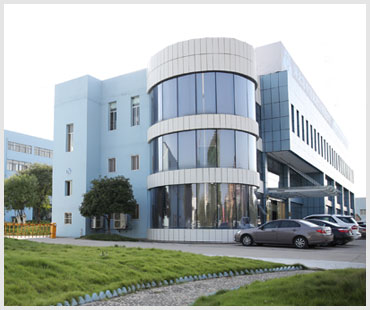 Certificate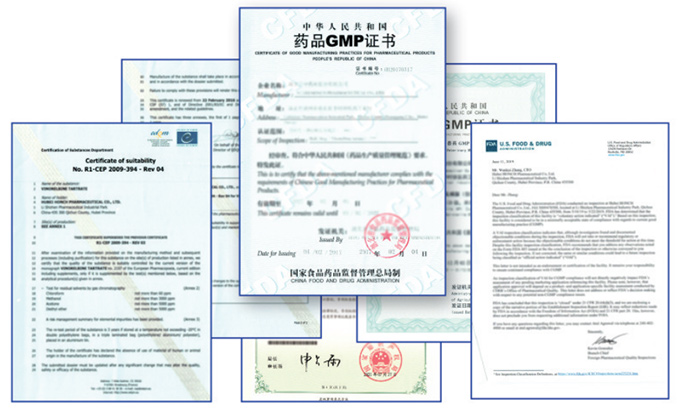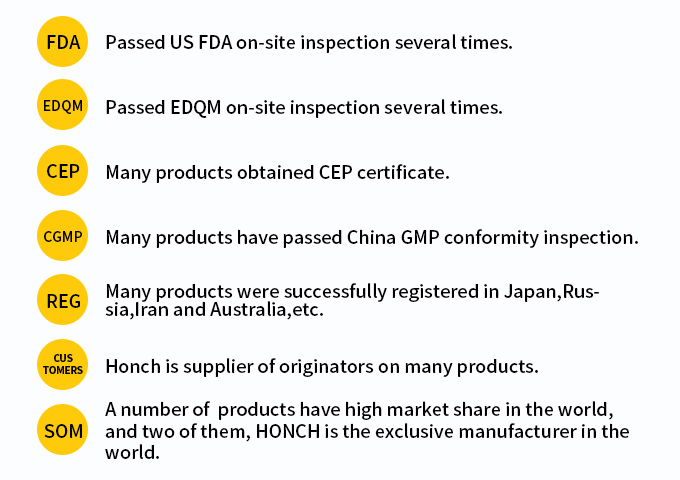 Honor